After spending about 8 hours last night doing laundry, folding clothes, organizing all my attires and shoes for my upcoming trip to Cabo I get a text from Marvin this morning saying that Hurricane Earl is bound to North Carolina.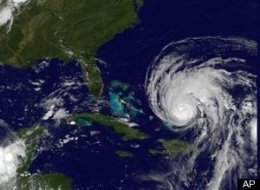 Image of Hurricane Earl from Huffington Post article
(listed below)
Normally my reaction would be, who cares?, but this time around it is different...our trip was booked through
wwte.com
who had a special rate to Cabo through
US Airways
.
US Airways flights from Chicago to Cabo connect in Charlotte...now do you understand why Hurricane Earl is my enemy, well besides the fact that I really dislike that name, it is trying to ruin my long awaited for romantic vacation with my honey!
As of this moment, the hurricane is to hit NC this Friday which means we might actually be lucky. Crossing my fingers! But reading articles like this one:
Hurricane Earl Evacuations: Ocracoke Island In Hurricane Earl Path,
makes me slightly nervous.
All I want to do is lay out on the
beautiful beaches of Cabo
with a pina colada and getting some color (not like a really need it) while admiring the ocean and my wonderful boyfriend...if there is a god, please don't ruin this for us....thank you very mucho.