My favorite online news, Huffington Post, posted an article about
Tourists Pretend To Hold Up The Leaning Tower Of Pisa

. Well I am guilty as charged...in 2000 my family and I decided to do a roudtrip of the entire country of Italia. It was an interesting trip to say the least, since we had about 8 people in a minivan for about 2.5 weeks. I almost killed a few of my relatives for being so damn annoying at times, but aren't most relatives that way anyways?
During our tour across Italy we made sure to stop in Pisa. Oh Pisa...how we loved and loathed thee. We loved it because we got to be tacky tourist wearing knee high white socks, fanny packs, funny hair styles and of course the random khaki pants white shirt holding on to a map in the middle of the street. We SCREAMED tourist...tacky, uber tacky. We also loved it because we got to take a mirage of photos of us holding on to the Tower of Pisa. Unfortunately, I don't have any pictures to share (well...they are in my basement need to make them into an electronic format), but I can say this once I find them I will post and you will roll off your chair laughing at our fashion style and facial expressions.
We loathed Pisa because some "friendly" Italian chose to open our minivan and steal the majority of our clothes, food, shoes, etc. This caused us to end our trip short since we were already starting to run low in cash and couldn't afford to replace everything we lost. Therefore, if you do decide to go to Pisa...don't be tacky and try to dress like a local.
But check out some of
these pictures
that huffington post put in their news clip. HILARIOUS!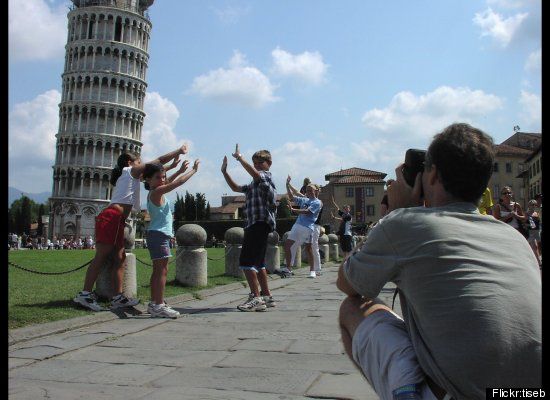 Just one of the many tacky photos you can see...jajaja.