Me @ Times Square this past May
So as many of you know I have been talking about NYC for quite a
while.
.. I even had to really think about it because I was worried about
bed bugs
. Now I am seven days away from my departure to NYC and I am completely excited!!
We arrive on the 17th and we go straight to the Hyatt in midtown, Manhattan around noon. That means we won't be checking in until 1-130pm. After we check in...I hope to get to do several thinks besides the main reason why we are going which is Marvin's family's holiday party.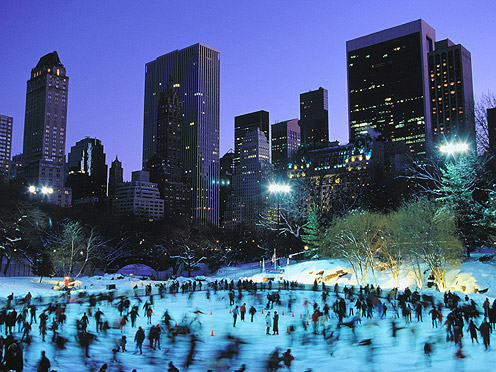 Photo from: Photos of Beautiful Places
First on the list is ice skating in
Central Park
. Wollman Rink has been in countless of movies and in one in particular that I LOVE....Serendipity. So I hope to have that same moment that they had in the movie and then afterwards go to
Serendipity 3
to have some yummy chocolate milk shakes, just like the movie!
Reina Pepiada.
Photo from: The Yarn Monkey
One location I also have on the list for Friday is to check out a new Venezuelan (bueno no es nuevo, pero para mi lo es) restaurant called
El Cocotero
. I have been craving a really good reina pepiada for THE LONGEST time and one of my cousin's friends that lives in NYC highly recommended the spot, in fact she might just meet us there :) I really hope this wish comes true since I am going to miss all of my Venezuelan treats this year (okay ya. ya paro de llorar...pero como duele pensar que no voy a estar con mi papa durante las navidades...han pasado ya 3 anos desde la ultima vez que fui a Venezuela durante las navidades, que dolor).
On the list of other places to check out is the
Rockefeller Center
. In May, my previous boss and I wanted to check out the
Top of the Rock
, since we have both already done the Empire State building and have been told that the view at night time from the Top of the Rock is amazing! So next Wednesday (a few days prior to departure) I will be purchasing those tickets to assure we get the chance to go to the top of the rock...not taking any chances! Afterwards, I am going to be taking pictures like crazy of the Christmas tree because as you know I HEART Christmas and supposedly NYC just transforms during the holidays. AND since it is my first time there...I have a feeling I am going to fall in love!!
Drinks at Epic for Marvin's bday
Since the day is already kind of packed I would love to end it with a nice dinner at
Anthony Bourdain's Les Halles
...as you already know I am a
HUGE
fan of his show and food. The last time I went to NYC I checked out his restaurant with Silvia and it was delicious! I mean I don't recall ever having the juiciest and flavorful steak in my life like how I have there...Well,
Epic in Chicago
definitely competes with his steak...but come on it's Anthony Bourdain's restaurant at the end of the day. The man is a freaking genius in the kitchen and well I have a small little girl crush on him (Don't worry all..Marvin already knows...lol).
Steak at Les Halles Brasserie,
this past May
Anyways...post dinner I would like to check out a movie or a show. Per Huffington Post's latest post this week about the
top things to do in NYC
during the holidays the writer, Marie Elena Martinez, recommends to check out one of these shows:
The Radio City Christmas Spectacular
(Through 12/30)
This ultimate Christmas show, which debuted in 1933, includes the world-famous Radio City Rockettes performing their beloved March of the Wooden Soldiers, a living nativity, and magnificent special effects. (Radio City Music Hall;
www.radiocitychristmas.com
)
New York City Ballet's The Nutcracker
(Through 1/2)
Each winter, the New York City Ballet inspires prima ballerinas of all ages with its staging of George Balanchine's The Nutcracker™, the story of a little girl's flight through toy soldiers, cunning mice, a gifted Nutcracker, and sugarplum fairies. (
www.nycballet.com/nutcracker/nutcracker.html
)
Elf
(Through 1/2)
Based on the hit movie, Elf is the story of a North Pole orphan who embarks on a journey to New York City to win over his real family and help New York remember the true meaning of Christmas. (
www.elfmusical.com
)
Cirque de Soleil's Wintuk
(Through 1/2)
In its final season, Cirque du Soleil's Wintuk weaves breathtaking acrobatics with theatrical effects, following a young boy's search for snow (
www.cirquedusoleil.com/en/shows/wintuk
)
So my plan this weekend is to check out and see which one still has tickets left and then wait till the day of and purchase the tickets at 1/2 price through this ticket broker that is at Times Square (can't remember the name, but I would like to thank Silvia because she was the one that taught me that trick).
If Marvin reads this he is probably going to be exhausted from everything I just mentioned that I'd like to do on Friday night. But he can't complain we are doing all of his fun NYC ideas on Saturday.
So here is our plan for Saturday, we want to walk the historic Brooklyn bridge. It might take us a few hours but I have been wanting to do it and so has Marvin so we are going to take the opportunity that day to check it out. We were told that right after you pass the bridge and get into Brooklyn there is this small/cozy yet the best place in town to eat the most delicious NY style pizza. This place my friend is called
Grimaldi's Pizzeria
. So we are hoping that the walk through the bridge will build our appetite to scarf down a few slices of this Zagat rated spot.
Magnolia's Bakery:
Orange Cupcakes
Post our mini exploration of Brooklyn, we are going to head back into the island...maybe take a ferry back (quien sabe!). I do know that Marvin's best friend that lives in DC is coming to NYC with the girlfriend so we will meet up with them (and finally meet him! geez I've been with Marvin for over a year and still haven't met this cat! but he talks to Marvin more than I do...maybe I should worry LOL) and explore the city with them as well.
All I really really want to do on Saturday is to check o
ut a cupcake shop I heard about and would love to check it out (if possible!),
Magnolia's Bakery
.
Saturday evening will end with us celebrating the holidays with Marvin's family back at the Hyatt. Were I will once again get to see some of Marvin's family who I have grown fond of and enjoy plenty of laughs and of course be merry because that is what the holidays is all about! Can't wait to have some delish Puerto Rican/Dominican inspired dishes and drinks. That evening I have a feeling we might not sleep which is perfectly fine with me, I mean we are in the city that never sleeps so why even bother!
That's a jammed pack weekend in NYC but it will totally be worth it. I am looking forward to going out there...there is really nothing like NYC, it's an amazing city that has so much history, culture, food, opportunities, etc. I wouldn't mind living there, but the moment that I was looking to move to that city never came, I guess it wasn't meant to be. But traveling and visiting NYC will always be meant to be. See you in a week NYC...you better be ready for me!