My favorite time of the year has finally arrived, the holidays! I love all the bright lights, Christmas trees, and Christmas shopping.
Are you looking for some ideas on what to give to your friend, cousin, lover, family member that is always traveling? Here is a great list to help you gather a few ideas and the best part is that you can purchase all these items online so you don't have to wait in line or drive through the snow to purchase these items.
My first three gift ideas actually come from a project that myself and my travelista sisters
Brown Girls Fly
worked on with our friends at
REI
. Here is the video where we recommend some awesome gift ideas that you can find at your nearest REI store or online.
Now that you saw the video, here are the remainder of the items I highly recommend as Christmas gifts:



Mophie Juice Pack

($99.95) - This is by far the best gift you can give someone who is always on their phone, taking pictures and sharing them via

Instagram

. Once their smartphone battery starts running low, Mophie kicks in and adds extra juice to their phone!
photo courtesy: mophie.com
Little Passports
($11.95/month) - If you have raised your little ones to explore the world then this gift is great for you and your kids! It is a subscription based gift where every month your child will get to explore a different part of the world, region, country you select for them to check out. If this is a gift that peaks your interest then you are in luck, I am doing a giveaway for your first month subscription. You will obtain the explorer kit which includes a mock passport, a world map and much more!
photo courtesy: little passports
Columbia's Belladome Tent
($163.90) -
A thoughtfully crafted 4-person tent featuring premium waterproof materials, full seam sealing on the floor and rain fly, and a minimalist-inspired design that allows for a super easy setup.
Great for those that love to go camping during their travel adventures!
photo courtesy: columbia
Timbuk2 Snoop Camera Messenger Bag ($169.00) -
The fully padded, totally modular interior is designed to house camera lenses, bodies, and batteries. Simply move the walls around to fit the cameras you carry. If you really mean business, you can secure your tripod with the adjustable straps on the bottom of the bag. And when you're not packing (cameras), simply remove the padded insert and rock it like a classic messenger bag.
photo courtesy: Timbuk2
photo courtesy: Timbuk2
REI Digital Alarm Clock with Flashlight
($29.50) - Whether you are camping, staying at a lodge at
Olympic National Park
, this alarm clock with a flashlight will become your BFF when you are in need to wake up early and a flashlight for those moments when you feel a creepy critter crawling all over you!
photo courtesy: REI
Sholdit
($40.00) - If you tend to "forget" things such as your cellphone, iPod or passport this infinity scarf can store all those items for you while keeping your neck warm and still looking fabulous! I finally got my first infinity scarf and it was perfect to use when going through TSA just open the zipper, store your ID and your boarding pass, and voila you no longer have to dig through your backpack or over-sized purse for those two items!
photo courtesy: sholdit
The Power Nap Head Pillow
($99.95) - Traveling at times can lead you to lack in your zzz's, if you are looking to catch up with your beauty sleep while you wait for your flight to board check out this power nap head pillow which allows you to completely zone out and take a nice break from your travel adventures.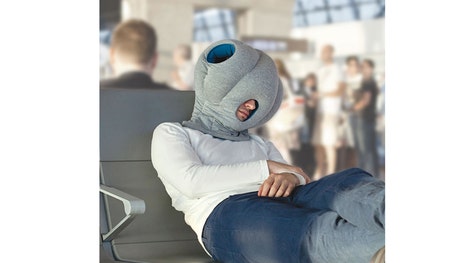 photo courtesy: Hammacher